Robot Luv has had some lovely reviews by moms and little fashionistas recently. Here are a couple of reviews.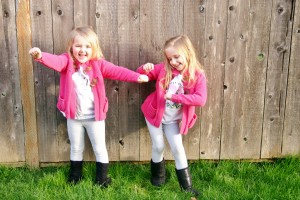 Emily's reviews: "As soon as our Robot Luv packaged arrived, the girls wanted to wear their new shirts to school. We all had a pretty good laugh the next morning when they came out of their bedrooms wearing almost the exact same outfits."
Deals of Sweetness: "For my review we received a Robots of Rock Kids Tee. Oh my goodness, I was so excited over it! I thought it was fantastic. Would it pass our little guy's test, though? When he saw robots he was SO excited! He doesn't get excited over much, but he was asking if that was his shirt and if he could wear it. I'm pretty sure he talked about his robot shirt for a few days after first getting it, too."
"Because of the cute, creative design it's been a big hit with our other two kids as well. They have also been telling everyone about their little brother's "cool new robot shirt." It's always more fun when everybody is excited!" ~Deals of sweetness
http://www.dealsofsweetness.com/robot-luv-review/
Posted on 18 March 2014 | 10:03 am
Happy New Year! To kick off the 2014 I came up with an idea to feature a Robot Luv special, quirky, original tee everyday! Not only that but a free gift with purchase! Gifts will chosen at random from pins, cards, patches, magnets, the gift will be a special surprise!

I will post the "Tee of the day" on multiple sites and you may purchase direct wherever you like.


https://www.facebook.com/Robotluvxoxo
https://plus.google.com/u/0/b/100612162364055652288/100612162364055652288/posts/p/pub
http://www.shoplincoln.com/robotluv
and I will also be tweeting the "Tee of the day"
https://twitter.com/robotluvxoxo
as well as pinning it to the "Tee of the day" board on pintrest
http://www.pinterest.com/robotluvxoxo/tee-of-the-day/
Saturdays will be Kids "Tee of the day"!
So follow Robot Luv and what for the "Tee of the day"!
Posted on 9 January 2014 | 2:51 pm
Robot Luv is featured on Zulily.com. Zulily is a webshop that sells women's and kids clothing and accessories. Robot Luv is part of the "What a Hoot!" event with two owl tshirt designs.



Check them out here! Boys and Girls sizes from newborn to toddler to juvie!
http://www.zulily.com/p/white-owl-in-flight-tee-infant-toddler-boys-54204-6006698.html?pos=related&ref=related&from=6006688
http://www.zulily.com/p/white-owl-in-hat-tee-infant-toddler-boys-54204-6006688.html?pos=related&ref=related&from=6006698
Posted on 17 November 2013 | 7:35 am
Robot Luv is currently seeking world class licensee partners to extend our lifestyle brand and attitude into new countries, categories and channels of distribution.
We have an extensive portfolio of Robot Luv graphics that will propel sales of all types of apparel, footwear, accessories, backpacks, socks, hats, bedding, housewares, stationary/pens, skateboards etc. Carrie Masters can customize new graphics to add to the portfolio so that new material and exclusive material can be made available.
I Heart Boston Terri...
Clothes
$28.00